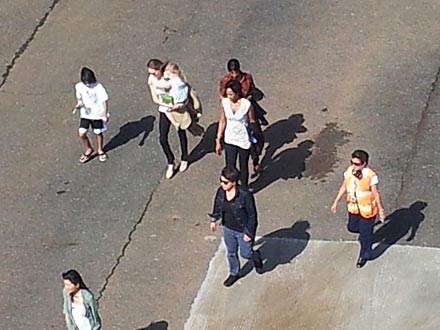 This woman with two children and four nannies is Angelina Jolie arriving for a "family" holiday in the Galapagos Islands with Brad Pitt and the rest of their army of children, security and servants. The picture above was posted on twitter and it's hilarious to see how they really look when travelling when they're not expecting to be papped. What no happy faces and hand-holding with all eight of the family in shot?  Below is one of their set-up pap shots. Quite the difference isn't it?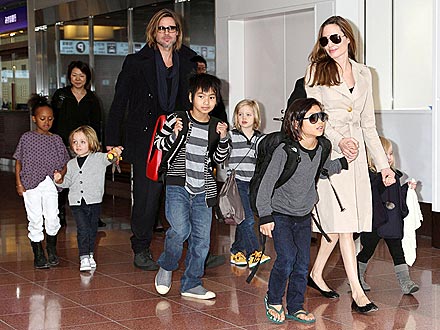 They are now staying at the five-star Royal Palm Hotel Galapagos and rather than staying with the cerfs in the main hotel building, are booked into the exclusive oceanfront residence Escalesia, in Puerto Ayora, Santa Cruz Island. It has three ocean view bedrooms, infinity pool, whirlpool, steam bath, sea front sun deck and bar, total privacy, unobstructed views of Academy Bay and Santa Fe Island and a little house in the garden with two double beds and two single beds- which they can put the four nannies and two security in.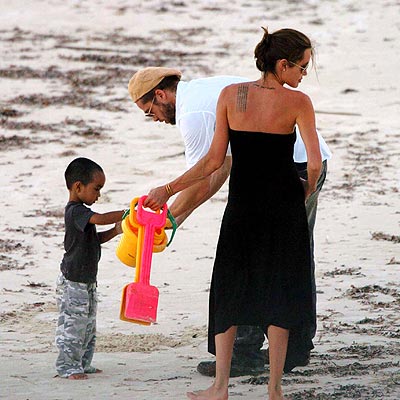 Do you know that when Brad, Angelina, Maddox, plus Robyn his nanny and two security guards went on that first holiday to Kenya in 2005 when they were first christened 'Brangelina' (picture above) that Pitt nearly got his new family arrested? A source at the hotel they stayed in says that Brad had been seen smoking dope by the hotel pool and someone had smelt the strong smell of the hashish he was using and alerted the local authorities that drugs were on the property. Local's wages are very poorly paid in the African country and any cash is always particularly welcome so many Kenyans jump at the chance to make extra money from tipping off the Police about illegal activity, particularly when Western tourists are involved. Penalties for possession, use, or trafficking in illegal drugs in Kenya are severe, and convicted offenders can expect long jail sentences and heavy fines. Bribes are frowned on and local authorities would rub their hands with glee at the opportunity to arrest a high profile American celebrity and make an example of them or perhaps make him pay them off with a juicy bribe. Pitt had already left for Ethiopia as part of Bono's ONE campaign when the Police turned up to raid the Alfajiri Villas - along with two truck full of gun- toting soldiers. But Angelina, along with her employees and, worryingly, Maddox were still there when twenty Kenyans carrying guns swooped on their rooms. "The Police turned up and told hotel staff that they had received information and had warrants to search the guests rooms," says the former employee of the hotel. "They said they had reason to believe that drugs were being used on the property. They searched the rooms after seizing everyone's passport they went through their suitcases. Angelina looked frightened to death- clutching her son in her arms and telling him it was something to do with one of her films. Eventually they found nothing and gave their passports back and left." The police and soldiers eventually left empty-handed and a visibly-shaken Jolie and her entourage flew back to the UK.  The shocking incident was kept out of the headlines with fans who were salivating over a made-up story about the new couple having such loud sex that hotel security thought Angelina was being mauled by a tiger ("never happened" says my source) having no idea how close Maddox's new daddy came to being hauled off in front of the youngster to a grubby Kenyan jail for questioning. Well played, Brad, well played.