Prince Harry graces today's cover of People magazine under the headline: 'The Naughty Prince!' and inside the mag Palace sources defend the young Royal saying he didn't do anything against the law whilst he was in Las Vegas.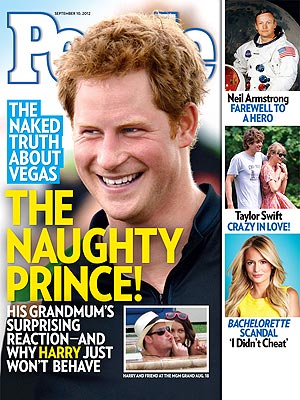 Compare this giggly slap on the wrist – which is akin to Supernanny Jo Frost putting a naughty toddler on a time out-  to their much more hard-hitting January 2002 cover following him being busted smoking cannabis at Highgrove House.
This is the crucial part of the Vegas story, a bit of drunken nakedness is par for the course for posh British boys on the lash, but had he been caught on camera smoking weed or doing cocaine there would have been an almighty uproar.
Meanwhile, it's been announced which events the 27-year-old will attend during the Paralympics, the first of which – so say People – will be on Friday which is also the 15th anniversary of his mother Diana's death.
Hm. If that's true, it's a very sneaky bit of public heart-string pulling the Palace have gone for there with his first public appearance since the whole bare botty baring scandal being on that exact date but who can blame them?
Already the retrospective wave of articles looking back on the People's Princess's life and death has started and there'll be much more in the coming days I imagine.
The spare heir (as E! News call him) is also due to attend the swimming at the games on Monday.
Between Harry, Kate Middleton and Prince William, they'll attend a total of five paralympic competitions over eleven days, which is a lot less than their Olympics 2012 showing, but the Duke and Duchess of Cambridge are preparing for their upcoming tour of the Far East and The Pacific – which kicks off on September 10th.
And, while Kate's busy ironing and handing outfits from the back of her wardrobe to the servants to wash so she can re-wear them on the Asia trip in a bid to seem frugal, both Princes are busy with long-standing military commitments – so says the House of Windsor's PR machine.
Wills is going to be doing his 24-hour shifts as an RAF search and rescue pilot but I can't work out exactly what the apache helicopter flying Harry's going to be doing.
Ours not to question why says the Palace.
'You cannot really compare the two events,' said a spokesperson for the trio yesterday.
'The duke will be back on shifts with the search and rescue team when he is not attending events and Prince Harry has long-standing military commitments.
'Prince Harry was on a period of summer leave during the Olympics which is due to come to a close very soon.
'The duke did not have any military commitments during the first week of the Olympics.
'Also, the Duke and Duchess of Cambridge will be taking time to prepare for their forthcoming overseas tour.'
Yeah yeah, we know what Prince Harry's really doing. He's kicking back at his father's Gloucestershire country estate, drunk-dialling Chelsy Davy, firing up big fat doobies on the quiet and scrolling through his carefully-compiled w@nk bank in his iPhone from the Olympic women's beach volley ball finals.
Maybe.