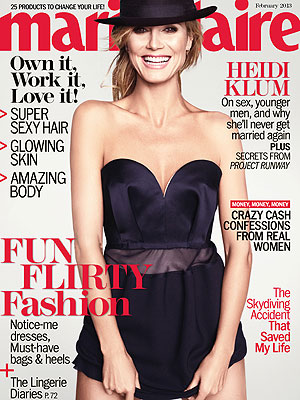 You've gotta love that Germanic honesty. Heidi Klum has revealed that she's not scared to whip out her kinky boots in a bid to keep bodyguard boyfriend Martin Kristen interested in the sack:  "It's good to make an effort to dress up sometimes – to do things outside of the norm," the model-turned 'Project Runway' bod tells Marie Claire in its February issue.
"Some people are more experimental in bed and others are more boring," continues Heidi make-me Kum. I mean Klum: "If you are wild and crazy, bring it on so the other person is well aware that you have little devil horns that come out every once in a while."
I really wish that she'd go into specifics here and recommend that Marie Claire get her sloshed before sitting her down for a chat next time, but in the meantime, my mind's boggling.
"Did I wish for this to happen to my family? No," she explains about her split from hubby Seal this time last year. "But everyone is healthy. We're moving on with our lives. If someone got [very sick] – god forbid – that would be a real problem. It's not what I wanted. It's not what anyone wanted. But it's not a real problem."
Fair enough. Rather than look back in anger she's saying basically no-one died so let's count our blessings (and the items in the naughty box under the bed) and move on.
But, she's not going to let her security guard beau walk her down anywhere but the aisle of her local supermarket she says.
"I don't think [I'll get married again], no, no," she admits. "I wanted to keep the memory of [mine and Seal's] wedding alive every year. That's why I thought it would be fun to get married over and over. But now I don't think it's that important. I'm not angry about anything, but I don't think I will. Maybe if I'm with someone for 15 or 20 years, and we do it in our old age as a fun thing to do. … But I don't have the urgency anymore."
Blah blah you don't want him to get his mitts on your dosh. We get it. Tell us about the SEX.
"I can understand why a woman finds a young man attractive, because the truth is that when men get older, their shape changes," Klum says of her thoughts on cougars.
"Younger men train more, and when the clothes come off, it is nice to look at a sexy, ripped body. But I am realistic. I'm turning 40 next year. I don't think I could deal with waking up next to a 25-year-old."
I can help you out with that, Klum. Just kick 'em out of bed and send them packing before morning.