Mi-forking-
ow. 
I love a good Hollywood bitch fight and
finally
we've been given a pretty good inkling of why Madonna and former BFF Gwyneth Paltrow fell out.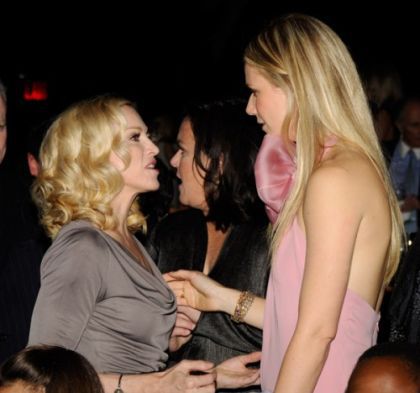 - Namely money and Madge's ex-trainer Tracy Anderson - who is now Gwyn's business partner. And now Madonna (or 'Esther' as her Kabbalist pals know her and 'Maman' as baby Brahim might call her) has launched a rival company to Anderson's booming fitness DVD empire called Hard Candy Fitness - which is headed up by her new (and impressively bendy) trainer Nicole Winhoffer.
I bet she's great in bed.
The venomous old bag has now launched a DVD called 'Addicted To Sweat' which is being seen as a direct rival to Anderson's workout videos - which are regularly endorsed by Paltrow, thanks to
joint interviews where they tells us normals how Gwynnie was an unmotivated fatty too
until she met Tracy the organic plastic surgeon who changed her life.
But now
Tracy
a source
tells the New York Post
that
Madge's
new trainer Nicole was nothing but an out-of-shape cook until she trained with Anderson:  'Nicole was overweight until Tracy shaped her body. She was a caterer and wanted to be famous.' They further add: 'Nicole doesn't understand the reasons behind the moves, just the motions.' First of all, neither Madonna or Gwyneth need the money so this is all a ridiculous feud- especially as they used to be such good friends.
It boils down to two grown forty-plus women setting their trainers on each other like the rival Queen bees at High School might set their worker drones on each other, when really, there's enough room in the workout DVD business for all of them. D-Listers in the UK regularly put on extra weight on purpose then lose it all to put out a fitness DVD in time for Christmas - it's usually a last-ditch career move reserved for fading stars who are desperate to make a few quid. So for two A-list multi-millionaires to be going head-to-head over fitness DVDs is well, vulgar to say the least.
My feeling is that initially Madonna and Tracy were going into business but knowing the former's penny-pinching ways (she pays her live-in nannies just £400 a month) I suspect that the plan was for Tracy to do all the hard work and Madge to help with promotion and then scoop the lion's share of the profits.
Anderson befriended Philippe van den Bossche, the former head of Madonna's Raising Malawi charity behind the singer's back and so it's likely she also went to Gwyneth on the QT and sold her on the idea of going into business but making sure she scooped herself a better percentage than Madge was offering. Tracy has
a beyond dubious background,
leaving a slew of lawsuits (six in the state of Indiana), two scorned ex-lovers who claim she is a scam artist and a penchant for padding her professional resume - amongst other things - in her wake. So sources sniping about Nicole Winhoffer on her behalf could backfire spectacularly.
But what it all boils down to is- whose body would you rather aspire to have- Gwyneth's or Madonna's? Neither come from watching a DVD, they come from a dedication to hours at the gym every week and following a strict diet.
Personally, my workout philosophy is simple - eat less, move more and DON'T under any circumstances have the naughties like chocolate and donuts in the house
if
you're trying to avoid them. - Do I need Gwyneth or Madge to tell me that? No. But I'm going to have a darn good laugh at the pairs' trainer Rottweilers going at it in the press in an attempt to fatten their star owners' bank balances.
Related On Partner Sites