I've been meaning to write about this for a good week or so and now I have a very rare quiet moment I've finally found the time.
Shiny and I were invited personally to interview Angelina Jolie and Brad Pitts' jeweller Robert Procop (as well as many items he's made the pair over the years, he famously made her engagement ring) at the Grand Hotel du Cap Ferrat at Saint Jean Cap Ferrat on the French Riviera two weeks ago.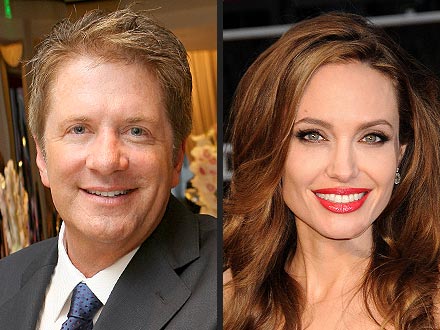 He's currently showcasing his Style of Jolie jewellery collection there, as well as his own latest line of fabulous jewels at the swanky five-star hotel.
I realised with horror as we drove up with bottles of Pinot Grigio clinking away in the boot from a quick trip over the border to Italy that it's the kind of place that valets your car the second you pull through the huge wrought iron gates and cruise past the manicured lawns dotted with palm trees.
There was a million euro Bugatti parked outside (above- it's the owners ride and this pic's robbed from a tumblr), but the rest of the cars were stashed away in an underground car-park. Like all the other top French hotels, they frown on using paper towels in the lavatories and instead use proper linen for you to dry your hands on which are then taken away in the wicker basket you throw them in, then freshly laundered and replaced. It's the little touches that make you feel so special when you visit these places.
The menu in the restaurant is a gastronomic delight- truffle rissoto? yes please. But, as I kept reminding myself- I was there to work.
I thought it strange that they picked this hotel to showcase the Style of Jolie in rather than one in Beverly Hills. But Angelina stayed there when she was pregnant with Shiloh and the other place they all stayed in back then – Paul Allen's Cap Ferrat 'Villa Maryland' is just down the road and one of his yachts- Tattoosh – is moored right outside.
The Brangelina clan were staying there at Paul Allen's while we visited- she had a few days off from filming Maleficent in the UK and the extensive building work at Miraval makes it a headache to stay there with so many kids. So they've been jetting back and forth to see Robert and keep an eye on how the Style of Jolie's selling (pretty well, by the way) and soak up some sun a short flight away from Britain's non-existent summer.
Robert's lovely. Very smiley and charming and welcoming and he even had a bottle of Brad and Angelina's Chateau Miraval rosé chilling on ice for us upon our arrival. They'd given a case of it to him the week before when he'd popped down to see the renovations at the house and he cracked one open for us. Good man. I fell in love with him right there and then.
I'm no jewellery expert and I was there to get quotes for one of the big American magazines, but if I had several million knocking around in the bank, I would definitely be tempted to splash out on a couple of items from Robert's own line, which is Parisian art deco inspired and makes you feel fabulous the second you pop it on. Note to self: Get rich or die tryin'.
He insisted we try on rings and necklaces that Angelina's worn herself to events in the past. So with one twist of our rubber arms we were soon dripping in a million quid or so's worth of jewels. Now I see why the car was tucked away safely upon our arrival in case we made a break for it Thelma and Louise style.
I went for this tablet cut Emerald ring (below), which Robert says is extra small because Angelina has tiny fingers.
She wore it on the cover of Elle and designed similar earrings for this collection to those she wore the Golden Globes a few years ago.
Imagine being Zahara and playing dress up with Mummy's jewellery? Shiny and I agreed if that was us, we'd be wearing the lot around the house day and night a la Liz Taylor.
I also tried on this diamond bracelet, which is similar to one that Brad gave Angelina for Christmas two years ago and has all six childrens names engraved in the stones which are shaped like bricks. The rose gold is very soft against your skin and I have to say if I had to have a personal jeweller Robert would be the man.
I guess that answers the age old question of what do you give a person who has everything? – A huuuge diamond bracelet, that's what.
Angelina and Robert go back way over a decade since he gave her some jewels to wear to the Oscars and are really good friends. He speaks very highly of her and Brad and insists they are crazily in love and that they're lovely, down to earth people.
You wouldn't expect this of them after six kids but he says they are incredibly romantic and seriously- sending each other love letters via made-to-order and personally and carefully designed gold and diamond gifts? – Even my cold lump of coal I call a heart oozed out an 'ooh'.
For five years, Brad's been wearing a gold pendant which Angelina asked Robert to create as a gift for him and which has a love letter from Angelina engraved in the diamond at the centre. You can't see the engraving with the naked eye but he's not taken it off since she gave it to him.
Robert says that selling the Style of Jolie collection will raise enough money to build two schools a year out in Afghanistan and aside from a good dose of PR, neither of them are profiting financially from it. It was all Angie's idea and, she chose each of the stones for the pieces- which are all Autumnal shades if that makes sense. Soft hues of green, amber and red.
Now. When Brad and Angelina tie the knot (and they will) I think we can guess who'll be making the rings. I'm going to hazard a guess at what they'll look like. Matching rose gold bands with a tiny tablet cut diamond in each with their vows engraved across them, so they know but they're invisible to the naked eye. Something along those lines for definite.
I was pushing him to spill the beans, and he wouldn't, of course. So quotes filed, a to die for dinner and a few lashes of Chateau Miraval rosé in our tummies we reluctantly removed our borrowed gems and cringed as the valet bought the car (with hanging off wing mirror) back from the underground car-park with a suspiciously loud clinking sound coming from the back.
What a fabulous evening.