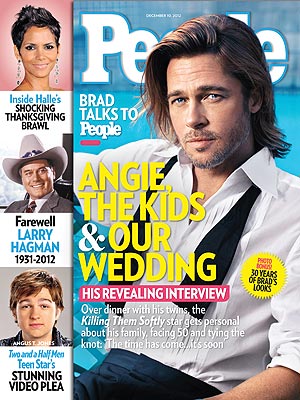 Brad Pitt has had a little chat to this week's People magazine, to remind the good people of middle America to go and see his film Killing Them Softly this weekend after picking up the kids from soccer practice.
"It's been a family type of year, a down-home type of year," he bizarrely said, even though they don't actually have a home at the moment and have mostly lived in a rented property in Surrey in the UK this year.
"Mama's worked more. And quite frankly I've really enjoyed it." Snort! Mama??? Is that what he's calling his Mistress now? Is that before he pulls on the gimp mask or after?
He then went on to discuss their wedding and Jennifer Aniston's going to have to return that bride upstaging dress she purchased when she read in one of the weeklies that she's invited to the Brangelina nuptials because she ain't on the list: "Just family," Pitt says. "Keep it simple. Keep it simple – really."
Like your intelligence levels Brad?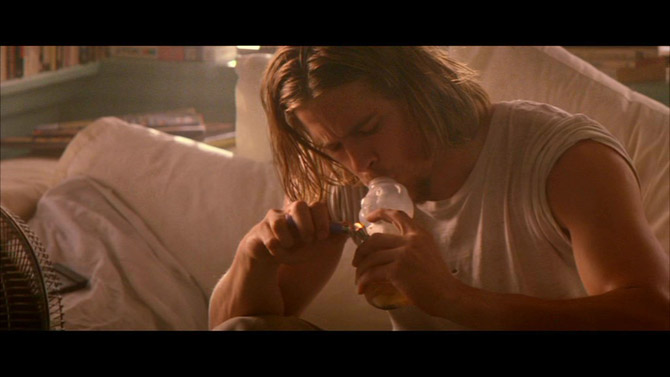 Has fatherhood made him a better man asks People? "Absolutely," Pitt answered as if he was ever going to answer 'nah, not really' and thinking inwardly that employing six nannies also helps.
Showing his poor command of the english language he added mysteriously that being a dad "takes you right off yourself."
As for the whole having an affair with Angelina Jolie while he was married to Jen Aniston and going on to have four kids in three years, which most people assumed was a mid-life crisis, he shrugs and says: "This is what I think about: 'Okay, you're way over the mid-point [of your life]. You don't know how much time you have left,' " before adding ominously "I want to enjoy this year more than ever."
Angelina had better get in a bumper order for butt-plugs, straps ons and lube for Christmas then.