The Alba biatch and Kirsten Drunkst broke out the Louis Vuitton S/S 13 check last weekend at Golden Globe parties in Los Angeles and Kerry Washington wore hers to Django Unchained's recent Berlin photo-call.
I'm wrinkling my dainty little nose up as I cast my eyes over these. I personally don't like the 60′s vibe that's trying to be a thing this Spring – trends that were sparked by an over-reliance on strong weed and psychedelics several decades ago are to be treated with extreme caution in my book.
Dunst's bust looks as if it's been bandaged down in a bid by her stylist to stop her looking like an optical illusion Escher print and the matchy-matchy pointed winkle-picker shoes would make even the daintiest of feet look as if they'd woken up with a bad case of the Rumplestiltskins.
Kristen Stewart tried out the romper version of the LV check at a Tokyo presser for Breaking Wind Dawn last October and the taxi creases across her groin and the clown-like quality it gives an otherwise pretty girl have sealed it for me- the only black and white I'm going to be doing in the near future is stripes which work in your favour, not check.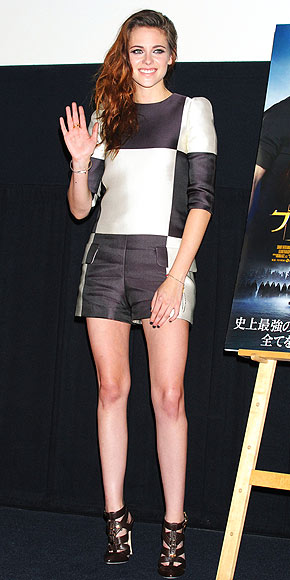 But, if you're feeling brave then River island have a £25 black and white check dress that styled carefully and on the right figure could look fan-forking-tastic.